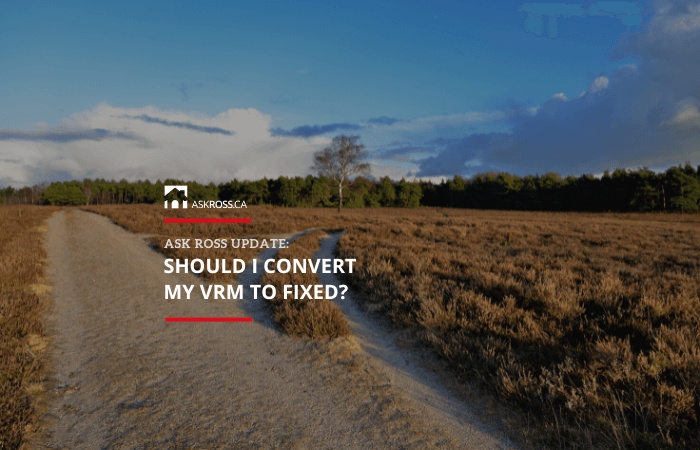 Homeowners in Richmond Hill, Mississauga, Toronto and the GTA with variable rate mortgages watch in dismay as the Bank of Canada ratchets up the Overnight Rate. Should they convert to fixed?

Recently we heard from a savvy, successful client who owns two properties, both with variable rate mortgages. In light of all the Prime Rate increases the past several months, she wanted my recommendation as to whether or not she should convert either or both to a fixed rate mortgage.

I wish I had a crystal ball and could see the future for interest rates. I have always been skeptical of those who maintain they know what will be.
Here are a few facts:
The Bank of Canada will keep raising their overnight rate until they feel that they have bested inflation and that the inflation rate will start to decline. They are not alone – most other major countries around the world are doing the same.

It is safe to assume the Prime Rate will rise further this year – perhaps another 1% is as reasonable a guess as any. Will it stop? Yes eventually. Especially if the country enters a recession, as in such times, interest rates typically abate.

Earlier this year, fixed rate mortgages rose well in advance of variable rate mortgage rates. And they don't move in the same way as variable. Fixed rate mortgages are based more off Government of Canada bond yields. As a result, they have been stable for the last month or two, even while the Prime rate jumped 1%.

So there is more stability there. If Prime increases again in September 2022 (it assuredly will) the fixed rate offers might still be no higher than they are today.
Breaking News – Impact of September 7, 2022 Bank of Canada Rate Hike

One of the primary advantages of working with a Richmond Hill Mortgage Broker is the access you get to insider thinking and a wide range of lenders who cater to all types of borrowers.
In answering my client's questions I wrote:
"In terms of your specific mortgages, as variable rate mortgages go, you have two very good ones. One has a fixed payment approach (TD Bank) and the other has a payment which varies with every change to the bank's Prime Rate (Scotia Bank)

TD Bank – your rate today is 3.7% while Prime today is 4.7%. Your payment was fixed when the rate was only 1.45%. If you switched over to a fixed rate mortgage now, they may offer you around 5.44%.

Scotia Bank – your rate today is 3.75% while Prime today is 4.7%. This is the type of variable mortgage where your payment increases everytime the Prime rate goes up. If you switched over to a fixed rate mortgage now, they may offer you around 5.54%.

(You would need to phone each bank to ask what they could offer you on conversion)

The Scotia mortgage payment has been increasing every time the Prime rate goes up, but your TD Bank payment has remained constant.

One point worth making is if you decide to keep variable, you might consider increasing your TD mortgage payment by $200 or $300 now – to avoid hitting the Trigger Point I explained here. By no means is this required, it's just a suggestion.

This is not to pick on TD bank. In fact four of the big six banks offer static payment variable rate mortgages.

To convert now is for peace of mind and to protect against the Prime rate going up another 2% or so (and once that is done, staying there)

This is a personal decision for everyone where multiple factors are in play including budgetary concerns, economic outlook and mental health well being.

Watching other sophisticated clients with multiple properties and a mix of fixed and variable rate mortgages., they are not converting any of their variable rate mortgages. They are watching though, as you are. If things got to the point where the Prime Rate seems out of control, then they may revisit that thought."
The Takeaway
Your story is different of course. If you are preparing to purchase a home, refinance or switch your mortgage, I would be happy to advise you whether a fixed rate or variable rate mortgage is best for you. I want to ensure that as many people as possible in Richmond Hill, Markham, Mississauga, Toronto and the GTA can achieve their dream of home ownership and financial security. Contact me today!